What we have to offer –
Active and friendly club.
Open all year round, no closed season, dawn to dusk.
Ideal location close to Nottingham, Derby and Loughborough.
10 minutes from J24 on the M1.
Free training for members.
Trips to other windsurfing locations and events.
Active social scene.
Club equipment for all members to use and learn on.
Trent Windsurfing Club is based in Long Eaton Country Park, between Nottingham and Derby and within easy reach of the M1 & M42. The Club is in an ideal location for East Midlands' windsurfers and stand up paddleboarders.
We have access to two very safe lakes and are open all year round, sailing from dawn to dusk. We do not close down over winter.
Thanks to a Sport England grants, the club now has 20 beginner boards including some lighter weight progression boards. We also have 8 Red Paddle Ride SUPs and 2 Hatha Ninos for smaller members and a WindSUP. We now also have two foil boards and a 6.4m² wing which can be used on windsurf or SUP boards.

Over the years we have assembled an a array of quality sails from 3.5m² to 7.5m² along with several Tushingham Dino junior rigs 2.0m² and 2.7m². A big investment in 2019 saw the purchase of a load of new booms and quality Ezzy masts followed by a re-organisation of the sail lockup so we now have over 20 quality rigs pre-assembled only requiring the attachment of the boom and setting the downhaul for them to be ready to go.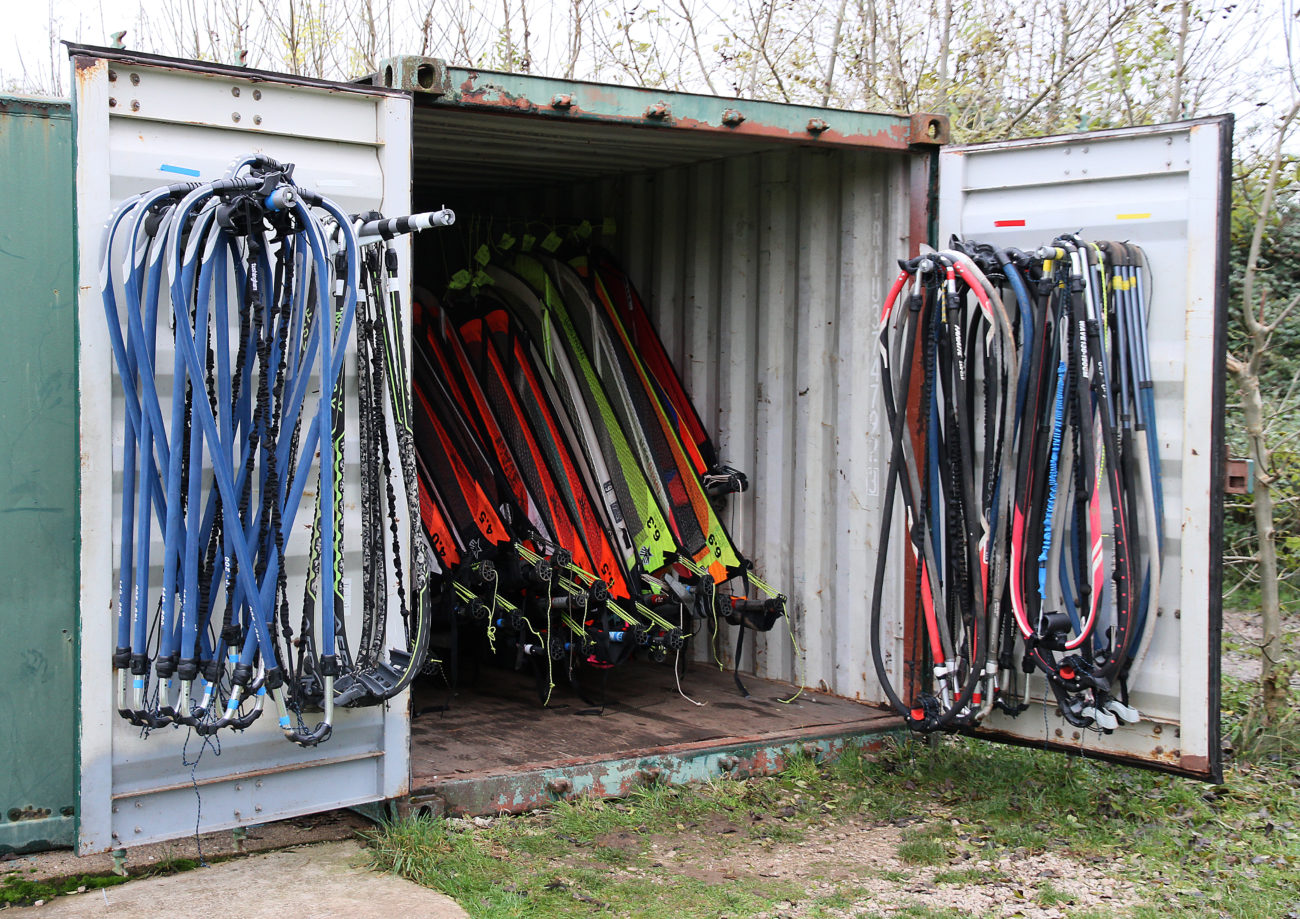 The equipment is available for all members to use, so for the first time it is now possible to join and get into windsurfing and make serious progress without owning any kit. For experienced club members wishing to get their partners or kids out on the water, it couldn't be easier and when they get a little more proficient you could take them out on one of our two Starboard Gemini tandems.
Whatever level of windsurfer you are, the club strives to support your progression in the sport. The Club has expanded the range of equipment to include a number of intermediate boards, Starboard Go 144, 155 and 165, Tabou Rocket 150, JP X-cite Ride 150 amongst others. This equipment will get you planing fast, hooked into the harness and feet in the straps.

Many of the more advanced windsurfers like the big open expanses of Carsington and Rutland and as its always much more fun to go with a bunch of mates, the club works hard to get new people included in any trips we plan. However if you just need a short fix after work, you will surely find others have the same idea whenever it is windy. On calm days SUPers are on the water either getting their exercise or simply taking in the nature.
We all communicate with each other using a WhatsApp account – click on the menu link above to get yourself included.
The club also organises a number of trips each year. In the past we have been to Weymouth to sail in Portland harbour using GPS gear to find out who is the fastest and a group heads off to the National Windsurfing Festival most years. Every few years we hold a trip to Tiree and we organise an annual club holiday to such locations as Club Vass in Greece, and in 2016 and 2017 to Fuerteventura. In 2018 we went to Alacati and this will be repeated for 2019.
The club also run a number of social nights and during the summer season, from about May through to September we have a number of 'Club Days' where we will have a presence down the lake. Please check the website for dates.
We are now able to offer beginner training courses with RYA trained instructors, details of which you can find under the Training menu. You can find dates for these in the Beginner Training section, and you can also book online.
To join the club, follow this link here.