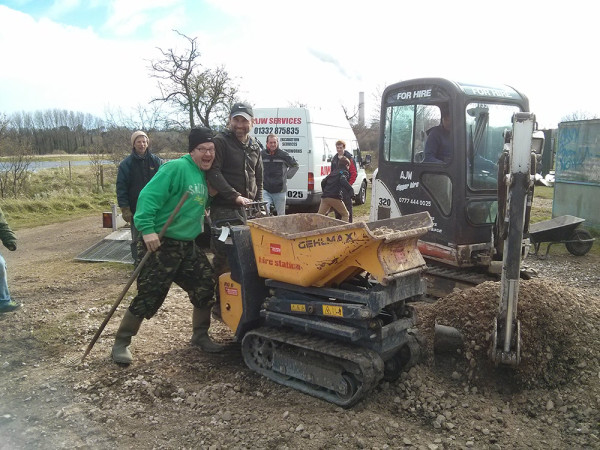 The recent maintenance day went extremely well, with around 15 volunteers arriving from 8am with the last ones leaving site about 5pm!
About 35 tonnes of stone was moved over the day and the volunteers successfully managed to achieve every one of the objectives and more! The slipway is now completely finished, creating a smooth ramp for the rescue boat and also a lovely launching spot. All of the potholes have been filled in and access to the rescue boat is now free from any obstructions too.
The digger man, Ade (of AJW Services) worked tirelessly for the whole day from 8am and generously charged us for just half a day.
CEMEX also donated 20 Tonnes of road stone, charging us only for the delivery, thanks to Vanessa Smithson, Quarry Manager at Attenborough.
AJW Services are a Groundworks/Excavation/Tool & Plant Hire firm based in Breaston and the club can highly recommend their services.  They can be contacted on 01332 875835 or visit their website here.