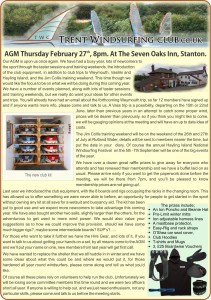 Club members will already have received an email with the newsletter attached, anyone else is welcome to view it (click the image to download and view the PDF).
If you are thinking of joining you will be very welcome to come to the AGM and if you join on the night you will be entered into the raffle to win one of more than a dozen prizes.
And as a primer for discussion at the meeting we have produced a calendar of events for the coming year. We hope to have other events to add soon and of course we will let everyone know just as soon as we have finalised the details.
You will see that we have a number of Taster Session days and Training Weekends for beginners planned throughout the summer. If you think you'd like to try out windsurfing, or if you have already tried it and want to get more serious about it, get in touch to get your name down for these great free (to members) sessions.
For members we have the Weymouth trip in April, (still time to get your name down), a possible Vasiliki trip in June (we will be gauging interest at the AGM), Jim Collis Training weekend at Rutland, and the National Watersports Festival in September. Got other ideas for club events? Please come along and tell us all about it.