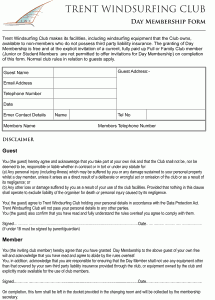 We are now able to offer day membership to allow guests to use club equipment. The change of insurers to the RYA has opened the possibilites for us to attract new members by allowing them to try out the sport easily and inexpensively. Previously we could not allow guests to use any of the club equipment as they would not have been insured, but now, any equipment the club owns, including the tandem, can be used by guests, but in order for them to be covered they will have to be become Day Members and this is at the invitation of a  full club member. For open days, taster sessions  and day training the invitation will be by the club and the committee will undertake to sign members of the public in.
There is now a docket in the changing room with Day Membership forms which need to be filled in by the inviting member and the guest. You will then be able to let them use the equipment we have in the racks. If you use this facility please leave any forms folded at the front of the docket so we can collect and keep for our records.
This is part of our plans to make it much easier to take up the sport. Our aim is soon to have 6 full sets of beginner equipment in the storage racks. This will allow members to invite friends and family to have a go anytime they like. We currently have two large beginner boards and one junior rig.
If any club members have any large wide beginner boards they would like to donate, or indeed sell us, we would be interested. Please get in touch.
Normal rules in relation to guests apply, we allow the same guest to be invited on two occasions, thereafter we would like them to join.