Tobago is the smaller of the two main islands that make up the Republic of Trinidad and Tobago.
It is located in the southern Caribbean Sea, northeast of the island of Trinidad and southeast of Grenada.


Hywel Harris goes to Tobago
Hywel writes: Boards magazine, as part of their testing regime, take small groups of guest testers on two of their testing trips each year. Last summer club member Hywel Harris applied for and was accepted for the February trip to Tobago to test medium and large freeride boards. The November trip last year was to Egypt and was to test smaller boards in windier conditions. The guest testers for that trip were selected from a higher ability range, the Tobago trip being for more intermediate level windsurfers. The Boards website does describe clearly what levels are expected. The trip was 2 weeks, has to be paid for by the guests, so its not a freebie, and is organised by windsurf holiday specialists, Sportif. The cost to me was about £1200 plus spending money, but it was quite cheap to live as eating out was not particularly dear. Tobago was advertised as a light wind, flat water location, always warm weather and water which sounded ideal to me.
The reality was better than expected. It blew every day in varying strengths with 6.4m being my most used sail size. Some days the wind was very light, but 8.2m sails worked fine on nearly all the boards in the tests. The kit was transported on the same flight as us which was an experience since there was masses of it, 30+ boards, 25+ sails plus booms, masts, kit bags etc etc. This caused a small delay at customs on Tobago but it was all transported to the windsurf centre, located in the Pigeon Point park, where we all set about putting it all together. We got on the water the afternoon of the day after arrival.
The guest testers are asked to keep a daily log of which boards and sails were used, and to swap kit as often as possible. We were encouraged to discuss our findings amongst the group, however the professional testers for Boards mag, Ian Leonard, Gregg Dunnett and Jem Hall, would not impart any of their findings or opinions to the guests in order to prevent 'contamination' of our verdicts. We fairly quickly found which boards we liked and which we didn't but were strongly encouraged to return to those we didn't like to retry them in different conditions or to reassess our conclusions. We had to write up our findings and forward them to Ian for inclusion in the tests, though most of us did this after we returned to the UK.
Sailing every day for 2 weeks takes its toll on your hands so you do need gloves. I took boots and wore them all the time since those that didn't got some urchin spines in their feet. The sun is very hot in Tobago at that time of year and you do need to cover up your face and neck. Even 20 minutes out on the water without a hat and you will burn.
The hotel we stayed in, The Conrado Beach, was very conveniently located but was a bit too basic to take a family to and expect them to entertain themselves while you windsurf. Sportif do offer the Tobago Hilton as an option and they do lay on a bus to Pigeon Point but that would tie you to their travel times. The Conrado Beach is located right on the beach with a wonderful terrace but the evening meal menu is often limited, but maybe this was because we were very early in the season. The Hotel manager Maria did make a huge effort to make our stay enjoyable, laying on a number of evening beach meals which were really special. Breakfasts were great with fruit, juice, pancakes, coffee/tea, eggs bacon etc. The rooms were basic with the decor a tad tired, but my room had excellent air conditioning to ensure a cool room at all times. There is a bar, which serves beer and cold drinks but it has a habit of playing loud music at inappropriate times even after having been asked to turn it down, but I think this is part of the culture. We even saw a guy with a very loud music system strapped to a push bike! Eating out entailed a 10-15 minute walk to the town and I found the lack of local cuisine disappointing, it felt a little too Americanised for my liking. Wine was virtually unavailable and choice of beer was pretty limited too. But don't let this put you off, the Hotel is fine if you are there for the windsurfing. If you do take a partner there are plenty of trips to go on, though these are not particularly cheap and the beach in the Pigeon Point reserve is of the picture postcard type.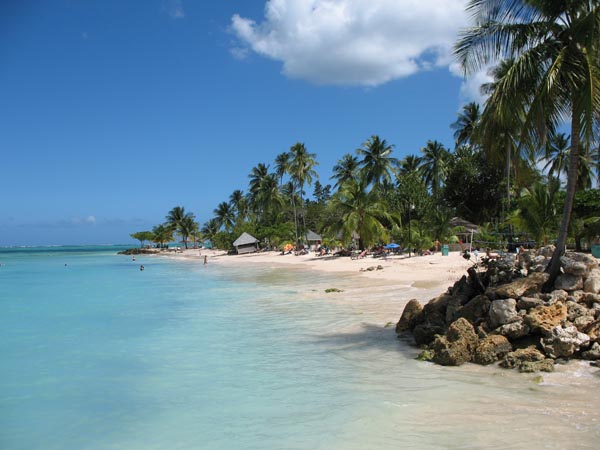 The opportunity to try all those different boards was truly amazing, something you'll never get going on a regular windsurfing holiday, plus having three pros on hand with Jem giving coaching advice when his time allowed was really the icing on the cake. I would urge anyone who can, to apply to go on one of these trips. Its not the same as going to a regular windsurfing centre where you have perhaps two board ranges to sail and with there being 10-12 in the group the atmosphere is great. I will be applying to go again, but I'll probably have to change my name in order to get on it!
Hywel has put a photo gallery together which can be found here.