The lake of Serre-Ponçon is a magnificent crescent-shaped man-made lake covering 30 km2, blending superbly into the landscape. 
The Durance which receives water from the Queyras and Écrins massifs and the Ubaye valley (55% of which is during the spring thaw), had always been a curse for Provence.
In 1955, the purpose of the construction of the titanic Serre-Ponçon dam was to curb the flow of the Durance.
The dam is 120m high (made of earth with a central core in waterproof clay, a technique that is very widespread in the United States), and contains 1,271 billion cubic metres of water, making Serre-Poncon the largest man-made lake in Europe.
The lake of Serre-Ponçon is maybe the best place I've ever been windsurfing…
I've spent one month there each year since I was a kid and it's just amazing! To be honest, during the months of June and July you can be sure to get at least 12 knots of wind (or more) at least 5 days a week. I usually sail there with a 7.5 sail but I even sailed some days with a 4.5 in stormy weather.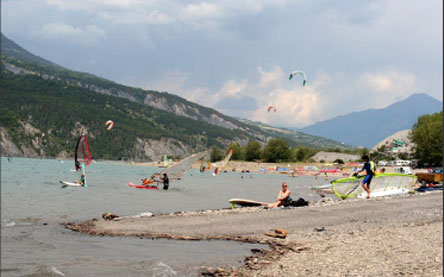 There is a typical thermical wind due to the moutains around. On sunny days, the wind starts to pick up at 1pm and holds at 10 and 15 knots around 2pm. It drops down late afternoon (around 7pm) with the heat. So you've even got some time during the mornings for shoping, biking, swimming… On stormy days, the wind is less stable and stays only for about one hour just before the storm starts but it can be a lot windier (about 25-30 knots).
To sum up, the best thing about this lake is that you can plan your holidays 2 months in advance and you can still be sure it will be windy enough during the days you are there.
There are a lot of italian people windsurfing down there and camping sites around the lake are full of Dutch girls… (hello)
There is a large built up area around the lake called Embrun with shops, hotels, campings, restaurants and even something called "le plan d'eau" (like a pond) specially made for bathing and sunbathing.
If you're really unlucky and one day there is no wind at all, you've still got a lot of activities available:
if you like water:
Bathing and water-skiing on the lake
White-water sports – rafting, canoeing, hot dog, hydrospeed, canyoning or trekking by Kayak, over 50 rapids – and all types of fishing : pikes, chars and carp in Serre-Ponçon lake, trout and perch in the equalising reservoir, sports fishing in the Durance, etc…
if you like gliding:
Paragliding, hang-gliding, gliding and microlighting from different sites around the lake. Shops and clubs in Embrun and Gap.
if you prefer "terra firma":
Numerous easy and more athletic hiking paths: 615km of paths, beautiful 3000m
Climbing and several Via Ferrata.
Mountain biking (waymarked paths) all around the lake and downhill mountain biking possible in the station Les Orres.
If you like snow:
Downhill skiing and snowboarding at Les Orres, Réallon (20 min from Embrun) or Vars, Risoul (35 min from Embrun) and even Serre-Chevalier or Montgeneve (less than 1 hour from Embrun).
Links: http://www.embrunais-serreponcon.net (tourism website)
http://cnasp.free.fr (sailing club website).