Last September TWC member Gordon Roach and Nott's county sailing member Mike Fletcher travelled down to Hayling Island on the south coast for the first 'Fat Face Master Blaster' windsurfing festival.
The wind forecast was excellent with speeds gusting to about 40 knots on the Saturday night, so the rain that came wasn't going to put anyone off.
It was the first time an event of this size had been held in the UK for many years.
Upon arrival we registered along with 330 other competitors and were handed our event 'goodie bag' and event rash vest.
During the course of the weekend simple 'out and back' races were held, with as many as 100 sailors on the beach start line waiting to run into the water with their kit and sail, out to a far off buoy, gybe, return and run back up the beach. This was really spectacular, especially as the wind increased.
In between the races various pro windsurfers and coaches were giving free half hour lessons to groups of tired sailors, along with Dave White clicking away on his camera recording all the action.
Saturday evening, before the big party, the Fat Face night series took place. This involved about 6 pro sailors repeating the day light race course but now under flood lights and also having to throw in some loops and other tricks. We soon lost sight of those out to sea except for the little glow beacons on their booms and masts.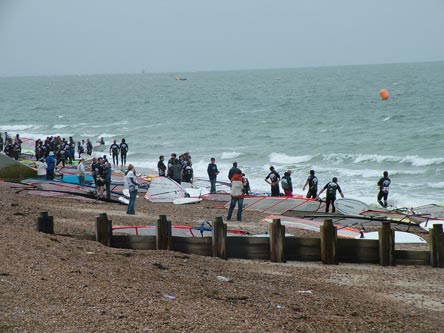 This was a fantastic event, helped by strong winds. It is due to take place again this year on the 8th & 9th September.
With entry costing only around £20 and no number limitations you have no excuse not to go down this year!