Windsurfing Holiday at Club Vass during 2005
Situated on the island of Lefkas (in the North-West of Greece)
by Steve Willey, Evening Post and Trent Windsurfing
I will never forget the first time I did a body drag. It was on my second trip to Club Vassiliki, the windsurfing mecca in the Mediterranean. 
For anyone who hasn't been there, Club Vass is an amazing place and a must for anyone who wants to move up to the next level of skill on the water. It's not the cheapest windsurfing destination, particularly now they've clamped down on people doing it the cheap way (staying in the nearby village and booking your windsurfing when you arrive at the centre). Now, unless anyone knows any different, you have to stay in their acccommodation and pay full whack.
But my God, the Vassiliki wind…..
Basically, there's a big mountain at the side of the bay, nearly as big as Scafell, which slowly heats up during the course of the day. Come mid-afternoon and all that hot air that's been rising up the side of the mountain since dawn comes shooting back down again, with devastating results. The flags at the Club Vass windsurfing centre suddenly snap round 90 degrees, the trees start rustling and everyone leaps out of their deckchairs and runs to the equipment shelters to grab their sails and boards. Then, providing it's been a hot cloudless day, it's four hours of white-knuckle windsurfing action.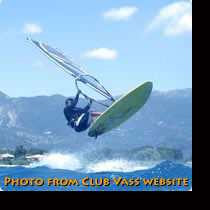 The only problem is that there are times when it can be a bit much, as me and fellow Trent Windsurfing Club member Dean Pearson found out. Hence my body drag experience.
It was back in the day when I wasn't in footstraps, and I was blasting along about half an hour after the wind had picked up. "This is easy," I thought. "I'm planing with the best of them."
At that moment the wind picked up again, probably to over twenty five knots, and sails started going down in the water all over the bay. Someone had told me to lean towards the back of the board when the wind gets too strong, and I dropped my back leg so much I ended up sitting on my a**e on the board. The wind wipped me round downwind and suddenly I was off the board and out of control. All I can remember is holding grimly on to the boom with my mouth open (I think I was trying to scream). There was spray everywhere and I must have swallowed a gallon of sea water before crashing in spectacular fashion about 50 yards in front of the windsurfing centre.
I hope someone saw it. It probably made their holiday.
Anyway, it all worth it in the end. I (think) I'm a better windsurfer now and, after Vass, nothing our little lake can throw at us gets me worried. If you haven't been there yet, get out there. And remember, what doesn't kill you makes you stronger… usually.
For more information on windsurfing holidays with Club Vass, visit www.clubvass.com